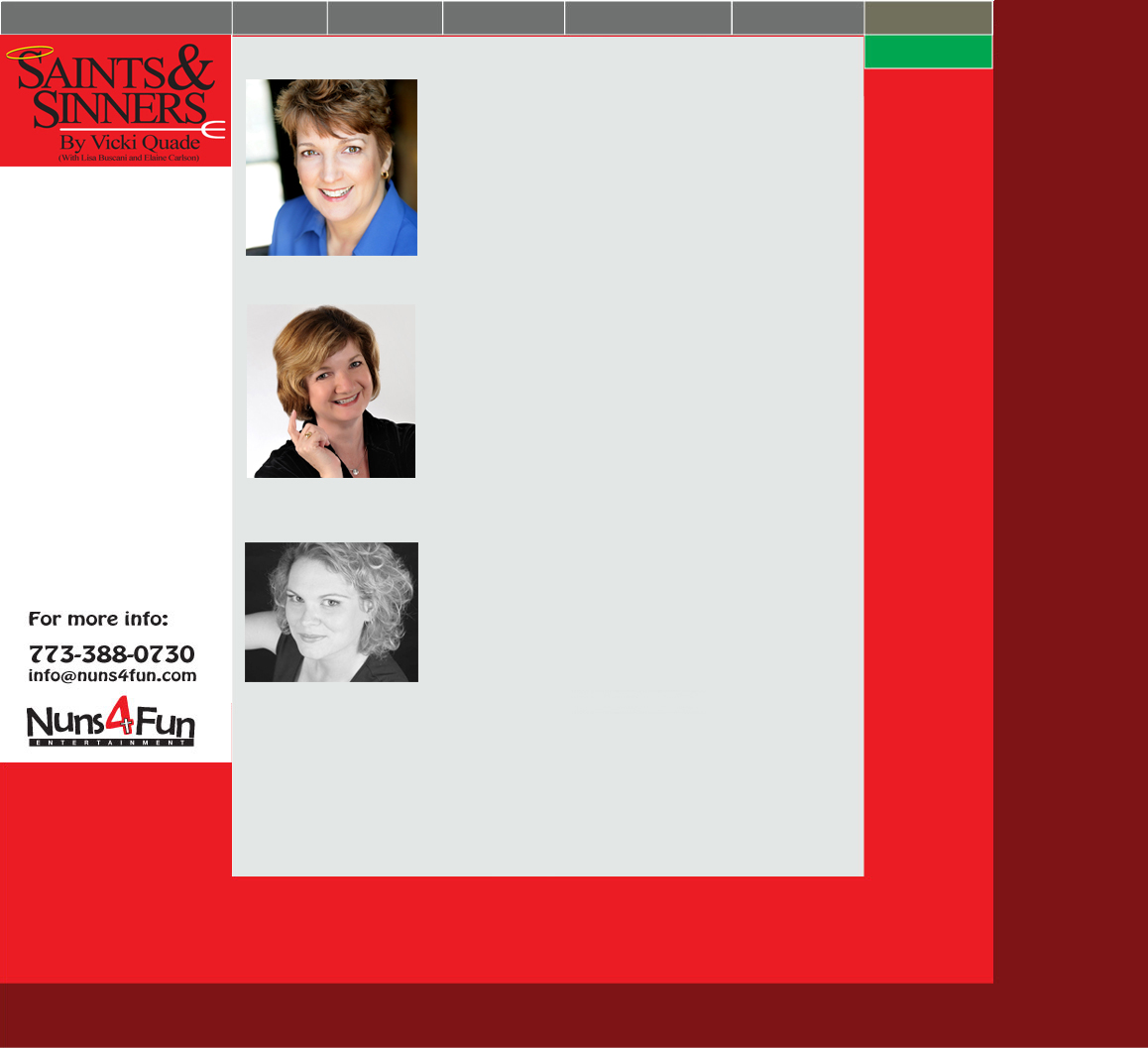 Elaine Carlson
is a regular on the Chicago theater scene and is known for her stage appearances in Apple Tree Theatre's Pygmalion, Stage Left's Leapfest production of Out Among the Dragons, American Blues Theater's Monsters II: Visiting Hours, BNC's Don Juan Comes Back from the War, Eclipse Theatre's Rimers of Eldrich and many, many others. Elaine has been honored with three Joseph Jefferson Citations: as both an actress in a leading role and also as an ensemble member in Famous Door's Salt of the Earth; and again as an ensemble member in Pegasus Players' Noises Off. She recently appeared with Sharon Gless in the feature film Hannah Free. Elaine's voice can be heard nation-wide on corporate voice-mail services and narrating industrial films about aromatherapy, waste management and nail fungus.
***
Breeda Kelly Miller
Joined the Nuns4Fun Entertainment family in 2010. She has also appeared in a number of ltheater productions, most recently in Ann Arbor in The Hound of the Baskervilles. Her most memorable role was as the Wicked Witch in The Wizard of Oz. Breeda has also appeared inThe Miracle Worker, Cheaper by the Dozen and The Music Man. She says she always knew there would be a benefit to being Catholic, she just never knew it would happen quite this soon. Breeda holds a B.A, from the University of Detroit/Mercy and worked for over a decade in Detroit radio and television stations. She also wishes to thank her husband, Jim (the saint) for all his love and support.
Kristen Williams
is very excited to become the newest recruit with Nuns4Fun Entertainment. She is a graduate from the Chicago College of the Performing Arts at Roosevelt University, with an MFA in Theatre and is a theatre professor and director at Kennedy King College. Since moving from Maine thirteen years ago she has both directed and acted with several companies in and around the Chicagoland area. Kristen is an ensemble member at Raven Theater, where she has been actively performing for the past seven years. At Raven, Kristen most recently played Detective Beck in BOY GETS GIRL, Katie in Bang the Drum Slowly, Grace in Bus Stopand Hannah Jelkes in Night of the Iguana. Kristen was the director, as well as a performer, in the long running Chicago production of Verbatim Verboten. Her most rewarding role to date has been Mumma to Mickey!